Carton tubes for concrete pouring
Ltd "ELETE RĪGA" recommend to use the carton tubes for concrete pouring on columns and supports in the buildings of various purposes, bridges, foundations, fence poles, etc. Such practice is widely used in the entire world, because it is simple to take the cut form from the molded column and to shorten it to the necessary height. Various diameters of the tubes are possible – 100, 125, 200, 250, 406. The products that we make are ecologically clean and may be used for recycling.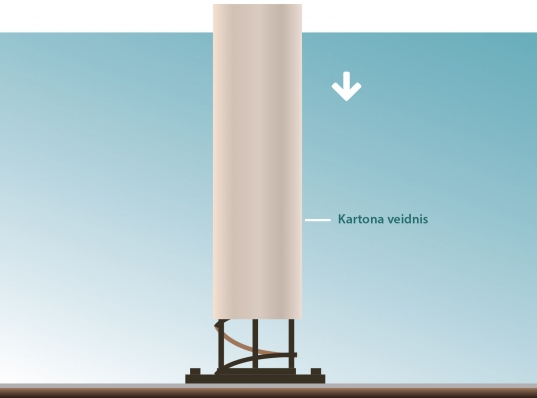 1) Lai uzstādītu kartona veidni, nepieciešams sagatavot stabilu un līdzenu pamatni. Konstrukcijas nostiprināšanai izmanto vertikālu tērauda karkasu (armatūru) visā veidņa garumā.
2) Uz sagatavotā karkasa uzliek kartona veidni, kuru nolīmeņo un nostiprina ar atsaitēm (atbalstiem).
3) Betona maisījumu ieteicams iepildīt manuāli, lai netiktu bojāta kolonnas konstrukcija. Pirmajā posmā ieteicams piepildīt 50 cm no veidņa augstuma un ļaut maisījumam cietēt 10 minūtes, lai nostabilizētos tās pamatne. Vēlāk ar maisījumu aizpilda pārējo veidņa tilpumu, pildot betona maisījumu nelielos daudzumos.
Papildus informācija:
- Garums 3,0m
- Standarta diametri no 150mm līdz 400mm ar soli 50mm
- 100% pārstrādājams materiāls, draudzīgs videi
- Viegli sagatavojama un izturīga konstrukcija
- Iegūst gludu kolonnas virsmu, kam nav nepieciešama papildus apstrāde
4) Betonam ieteicams cietēt vismaz 7 dienas. Vēlāk kartona veidni noņem, izmantojot griezēj instrumentus.
5) Papildus informācija:
- Garums 3,0m
- Standarta diametri no 150mm līdz 400mm ar soli 50mm
- 100% pārstrādājams materiāls, draudzīgs videi
- Viegli sagatavojama un izturīga konstrukcija
- Iegūst gludu kolonnas virsmu, kam nav nepieciešama papildus apstrāde
Download
Specialists
Where to buy