Gerband Nail Sealing Tape
Damping and waterproofing double-sided adhesive tape Gerband Nail Sealing Tape. Designed for sealing nail spaces between diffusion membrane and lathe in roof structures and facades. Especially recommended for low-slope roofs and where the diffusion membrane will be without the roof for an extended period. Excellent longevity and outdoor performance. Country of origin: Germany. Color: gray / black. Size: 40mm x 15m.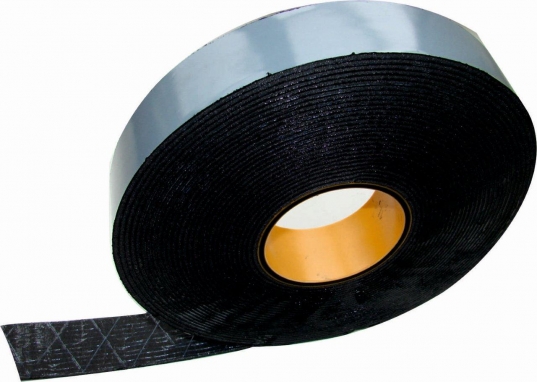 Pateicoties PE putu slānim, kas pārklāts ar butilkaučuku, tiek nodrošināts mitruma un ūdens drošs blīvējums naglu vietās starp difūzijas membrānu un latojumu. Tiek būtiski samzināts trokšņu līmenis zem "skaļiem" jumtu segumiem. Lai nodrošinātu ideālu saķeri, virsmām jābūt tīrām un sausām (bez putekļiem, taukiem un šķīdinātājiem). Ieteicams instalēt virs 00C. Lentas jāuzglabā oriģinālajā iepakojumā, tīrā, sausā vietā, pasargātā no tiešiem saules stariem. Uzglabāšanas temperatūra +100 - +300.
TEHNISKĀ SPECIFIKĀCIJA
Materiāls: UV stabilizēta PE putu lenta ar poliakrilāta līmi no vienas puses un butilkaučuku no otras puses.
Biezums, (DIN EN 1942): 3 mm
Saspiestais biezums, aptuveni: 2 mm
Stiepes izturba, (DIN EN 14410), aptuveni: 40 N/25 mm
Pagarinājums līdz plīšanai, aptuveni: 75%
Poliakrilāta adhēzija: 25 N/ 25 mm
Butilkaučuka adhēzija: 20N/25 mm
Temperatūras diapazons: - 300 līdz + 800
EAN: 4779019853322
RULLIS
Platums, mm: 40
Garums, m: 15
Krāsa, pelēka/ melna


Izcelsmes valsts: Vācija
Download
Specialists
Where to buy