ISO-TOP ELASTIFLEX
ISO-TOP ELASTIFLEX foam is a highly elastic PUR foam in a 750ml bottle that is approximately three times more elastic than the traditional PUR foam available on the market.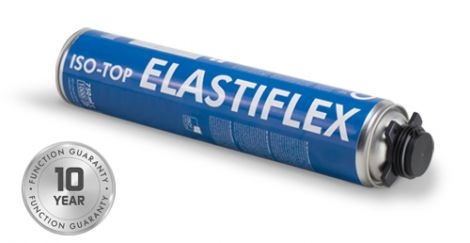 ISO-TOP ELASTIFLEX putas:
ISO-TOP ELASTIFLEX ir ārkārtīgi elastīgas PUR putas balonā, un tās ir apmēram trīs reizes elastīgākas par tradicionālajām, tirgū pieejamajām PUR putām. Teicamā elastība būtiski samazina putu plaisāšanas risku šuvē, un līdz ar to ilgstoši saglabā siltumizolāciju un skaņas izolāciju. Var apstrādāt temperatūrā, kas nav zemāka par -10 °C.
IZMANTOŠANA
· Logu un durvju rāmju savienošanas šuvju aizpildīšana ar putām logiem un ārdurvīm.
· pastāvīga savienojuma šuvju aizpildīšana ar elastīgajām putām uz pārsedzēm, garensijām, statnēm, jumta sijām, mansarda vēdlogiem, jumta logiem un cauruļu ejām u.c.
Download
Specialists
Where to buy